Is attribution management right for smaller online retailers?
Google Analytics
Uncategorized
Web Analytics
First of all, what is attribution management? If I may quote John Lovett from his paper "A Framework For Multicampaign Attribution Measurement":
Multi-campaign attribution is the practice of attributing credit to all marketing exposures that led to a Web site and subsequently resulted in a conversion event, rather than attributing all credit to the exposure immediately preceding the conversion.
In other words, many of your customers are deliberatively making your life harder by visiting your site multiple times from multiple sources before converting and, to make matters even more complicated, it's really hard to tell that this is actually happening!
Here is an example: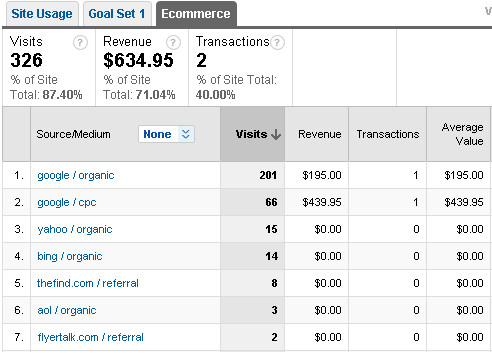 Standard Traffic Sources report, where one transaction is credited to Google Organic and one to Google Adwords.
I can also see the actual transaction:

Fair enough…Google gets the credit, end of story. Or so one might think… Bear in mind that this is just the last, converting visit. We can't really see what or if the customer came to our site before. That's where attribution analysis comes in, and here is the salient visit history from our own attribution management tool:

Turns out that the referral from flyertalk.com in spot 7 in my referral list played an important role in the conversion process and should thus get at least some if not all of the credit:

Useful to know, right? And from John's same paper, "According to 275 Web site decision-makers surveyed in 2008, a full 52% agree that attribution would enable them to spend marketing dollars more effectively."
OK, but back to my original question: Is attribution management right for smaller online retailers?
It's quite a step from "useful to know" to actionable advice. The example I showed is not actionable per se. All I know is that there is more to the transaction than first meets the eye. It's just one multi-visit trail leading to one transaction.
In order for attribution analysis to become interesting, we have to collect far more data to come up with aggregate purchase paths that exhibit distinct differences – kind of like segmenting in web analytics. For example, attribution analysis can tell you that many branded search terms are preceded by** keywords that look like they are converting badly in your web analytics**, but which provide a crucial assist.
The need for a lot of data could however rule out many smaller online retailers who may not have enough traffic for those patterns to emerge. Furthermore, doing any kind of decent analysis takes time and resources, possibly at the expense of other worthy initiatives, such as web analytics in general, AB and Multivariate testing, email marketing, landing page optimization, SEO and SEM, fulfilling orders, etc…
Has anyone looked into at what point attribution management becomes important? Is it in terms of revenue, traffic, marketing spend, or number of different channels? Could there be a simple metric that a busy retailer could use to determine whether she "needs" attribution management?
Is attribution management just for the big boys?
---